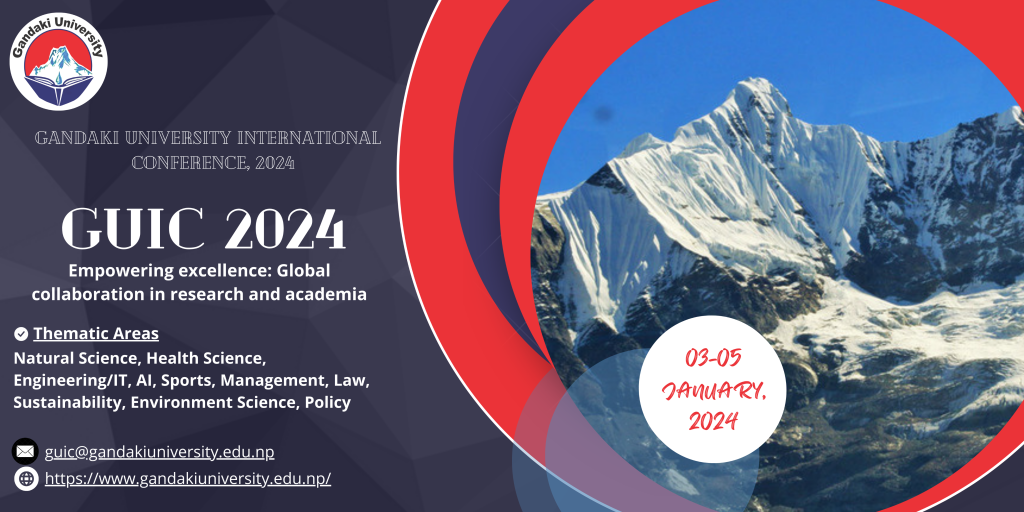 days

hours

minutes

seconds
About Gandaki University
Situated in the picturesque city of Pokhara, Nepal, Gandaki University (GU) stands as a beacon of educational innovation. Since its establishment in 2019, GU has embraced a global perspective, offering cutting-edge education aligned with international trends. Distinguished by its interdisciplinary approach, GU empowers students to explore diverse subjects, shaping them into well-rounded individuals. 
GU's foundation rests upon student-centric pedagogy, tailored to propel lifelong aspirations. Guided by democratic principles and unwavering ethics, the university aspires to redefine quality education with its distinctive mission: "Welcome to the Future." Envisioning itself as a premier national and global higher education hub, GU is resolute in fostering excellence that transcends borders. 
Central to GU's strategy is charting fresh pathways for students' destinies. Amidst today's tumultuous world, the university seeks to equip learners with skills for leadership and tranquility. By embracing a comprehensive framework, GU will illuminate students' life journeys, steering them toward success. 
Beyond academics, GU champions a harmonious haven for research and teaching, resonating with the pulse of a globalized era. Nurturing unity, camaraderie, and shared ownership, the university unites students, faculty, communities, and myriad stakeholders. From local partners to international organizations, GU envisions holistic education that resonates far and wide, poised to redefine higher education in Nepal and beyond.

About GUIC
The annual Gandaki University International Conference (GUIC) stands as a prestigious event that gathers scholars, researchers, students, and professionals worldwide. Hosted by Gandaki University, a renowned center of higher education in Nepal, GUIC offers a platform for insightful discussions and idea sharing on a wide array of subjects aligned with the conference theme. This year, the theme of GUIC, "Empowering Excellence: Global Collaboration in Research and Academia," drives its purpose. With each passing year, the conference theme adapts to the pulse of current academic trends, creating a dynamic space for interdisciplinary dialogue and collaboration. GUIC, in its essence, acts as a catalytic force, ushering in novel research perspectives, innovative policies, and pragmatic solutions to contemporary challenges. 
The conference program encompasses engaging keynote speeches, scholarly paper presentations, and enlightening poster sessions. Participants from across the globe converge, transcending geographical and disciplinary boundaries. Contributions in the form of abstracts and papers, reflecting a dedication to knowledge advancement, are embraced. Selected works find their home in conference proceedings or specialized academic journals, further enriching the scholarly discourse. GUIC is a testament to Gandaki University's unwavering commitment to fostering excellence in education and nurturing international knowledge exchange. By bringing together diverse minds, it harmonizes the spheres of academia, research, and practice. This year, under the theme "Empowering Excellence: Global Collaboration in Research and Academia," GUIC continues to foster a spirit of collaboration and innovation, redefining the landscape of scholarly discourse. 
Thematic Areas
Thematic Areas
Natural Science
Health Science
Engineering/ IT
AI
Sports
Law
Environment Science
Sustainability
Policy
Key Dates
Key Dates
August 15, 2023 – October 30, 2023 

 
Abstract submission for oral and poster presentation 
Notification of acceptance  
August 15, 2023 – November 15, 2023 

 
Early bird Registration 
November 16, 2023 – December 25, 2023

 
Late registration 
Venue
Pokhara, fondly known as the "City of Lakes," emerges as an unrivaled gem of natural allure, captivating souls from every corner of the globe. Whether you're a first-time traveler or a seasoned visitor, the bewitching landscapes etch an indelible mark on your heart. Nestled in the embrace of the Fishtail and Annapurna Mountains, cradled by crystalline lakes and verdant woods, this city paints a panorama that defies description. The grand Himalayas form a majestic canvas, bestowing an awe-inspiring backdrop to a hub of adventure and culture. 
Pokhara's landscapes encompass tranquility at Phewa Lake and vivacity at Davis Falls. The vibrant ambiance merges seamlessly with the warmth of the locals, creating an embrace of hospitality that inspires one and all. The city's tapestry is woven with a rich historical thread, weaving ancient temples and monuments into its fabric. These timeless relics narrate tales of endurance through ages. 
In this haven, serenity reigns, offering an escape from modern life's clamor. Simultaneously, an adventurous pulse resonates, catering to those seeking new horizons. In essence, Pokhara is a mesmerizing symphony of rejuvenation and wonder. Its natural splendor, cultural legacy, and hospitable embrace leave an indelible imprint on your being. This city, an eternally alluring destination, promises to be a realm of endless exploration, a sanctuary of memories that lingers long after your departure. 
Registration
Early bird: August 15,2023- November 15,2023
Late registration: November 16,2023- December 25,2023
On-site registration: Possible
Registration fees non-refundable for cancellations.
S. No.

 

Registration type

 

Early bird

 

Late registration

 

On-site registration

 

1.

 

Student (Nepal)

 

NRs. 1500

 

NRs. 2000

 

NRs. 2500

2.

 

Faculty (Nepal)

 

NRs. 3000

 

NRs. 3500

NRs. 4000

 

3.

 

Regular participant (Presenter and non-presenter) (Nepal)

 

NRs. 3000

 

NRs. 3500

NRs. 4000

 

4.

 

SAARC Country student participant

 

$50

 

$75

 

$100

 

5.

 

SAARC Country regular participant

 

$100

 

$150

 

$200

 

6.

 

International student participant

 

$100

 

$150

$200

 

7.

 

International regular participant

 

$150

 

$200

$250

 
Abstract Submission
Call for papers

 

 

Abstract submission for oral and poster presentation: August 15, 2023 – October 30, 2023

 

Notification of acceptance by: November 15, 2023 

 
Language:

The abstract should be written in English.

 

Title:

Provide a concise title (20 words max., UPPER CASE) that relates to the Theme, Topic, and Sub-topic.

 
Author Information:

Include full names of all authors and co-authors, along with their affiliations (department, institution, city, state, country). Provide corresponding author's contact details: email address, postal address, phone number.

 

Word Count:

Maintain a word count of 150-250 words (excluding title, keywords, and references).

 

Abstract Layout:

 

Objective(s): Clearly state the objective(s) of the study.

 

Methods: Describe the methods employed in the research.

 
Results: Present the findings of the study.

 

Conclusion(s): Summarize the conclusion(s) drawn from the study.

 

Keywords:

Include 3-5 keywords relevant to the abstract.

 

Presentation Type:

Specify whether the submission is for oral or poster presentation.

 

Font and Style:

 
Use Times New Roman, 14 font, for the title (bold).

 

Use Times New Roman, 12 font, for authors, affiliations, and abstract text.

 

Follow APA style referencing.

 

References:

While references are not mandatory, if included, they affect the word count.

 

Tables:

Include a maximum of 2 tables (up to 5 rows x 5 columns) per abstract.

 
Maximum 2 images can be included per abstract.

 

Ensure each image/graph is within 5 MB file size.

 
A panel of experts will assess all submitted abstracts. The final decision rests with the Scientific Committee. Notification of abstract acceptance and scheduling will be communicated to the submitting author.
Presentation Format
For inclusion in the GUIC proceedings, abstract presenters (first authors) are required to register for the conference by December 25, 2023 at the latest. Failure to adhere to this deadline will lead to exclusion of the abstract from both the proceedings and the scientific program. Your timely registration ensures your valuable contribution's rightful place in the conference's academic discourse.   
Invited presentations are presented by invited speakers in PowerPoint format. Invited presentations last 30 minutes, followed by 10 minutes of Q&A. One hour before the presentation, invited presentations must be pre-uploaded in the Speakers Ready Room. While using your own USB is allowed, using your own laptop is not allowed. Abstracts must be submitted in accordance with the Guidelines established by Gandaki University International Conference.  
For oral presentations, we utilize PowerPoint format. Each presentation is allocated 15 minutes, followed by a 5-minute discussion session. Presenters should ensure that presentation is uploaded to the Speakers Ready Room at least an hour before your scheduled slot. While presenters may use your own USB drive, employing personal laptops is not permitted. 
Time limit

: 15 minutes, followed by a 5-minute question and answer session. 

 

Content:

Begin with a clear and brief introduction, followed by an outline of your research approach, findings, and conclusions. Highlight the research's significance and its implications for the field.

 

Visual Aids:

Aim for 15-20 slides. Employ clear and easy-to-understand visuals. Opt for high-quality graphics that enhance comprehension. 

 
Content:

The poster must encompass an introduction, methods, results, and a conclusion. Present the content succinctly for clarity and comprehensibility. 

 

Visual Aids:

Enhance your content with quality visuals like graphs and images. The poster should be visually attractive and readable from a distance

 

Layout:

Create an organized layout that guides readers through your content effortlessly. Ensure it aligns with Gandaki University International Conference guidelines for clarity and coherence.

 

Poster size:

Maximum 3 feet width and 5 feet length with,

 
Title: Uppercase 80 arial black, Author Name: Lowercase 54 arial, Affiliation: Lowercase 40 arial, Subtitle: Uppercase arial black 40, Content: Lowercase arial 32 
Prepare a 10-30 cm high headline strip with the title, author(s) and affiliation(s) that runs the full width of the poster

 

Author should print and bring their poster to conference site by themselves

 

Presenter should finish registration for the conference

 

Poster should be attached at the space provided for individual presenter at scheduled times

 
Author should be present at their poster during poster presentation session

 

Sticky tapes, pins or thumb tacks for attaching poster will be provided by the organizer at the time of conference

 

Poster should be removed by presenter(s) after the end of poster presentation time

 
Book of Abstracts
GUIC serves as a platform where scholars, researchers, and experts from various fields share ideas, present their latest research, and discuss emerging trends. The conference "Book of Abstracts" are a valuable resource for scholars and students, offering access to cutting-edge research and insights from leading experts. With a focus on collaboration and student-centered learning, GUIC's proceedings contribute to knowledge advancement and innovative solutions. All accepted abstracts (oral or poster) will be published in the "Book of Abstracts", reflecting GUIC's commitment to academic growth.
Conference Office
Address: Gandaki Province, Mustang Chowk, Pokhara, Kaski, Nepal 
Phone: +977- 061- 460249 
Email: [email protected] 
Website: https://www.gandakiuniversity.edu.np 
Registration desk on-site opening hours 
Wednesday: 10:00 am to 5:00 pm  
Thursday: 10:00 am to 5:00 pm  
Friday: 10:00 am to 2:00 pm 
Travel Information
The most convenient way to reach Pokhara is by air, as Pokhara has its own domestic airport with regular flights from Kathmandu and other major cities in Nepal. Alternatively, you can also reach Pokhara by road, as there are several bus services that operate between Pokhara and major cities in Nepal. 
Advisory Board
Prof. Dr. Ganesh Man Gurung, Chancellor, Gandaki University 

 

Prof. Dr. Naba Raj Devkota, Vice-Chancellor, Gandaki University 

 

Dr. Kailash Timilsina, Registrar, Gandaki University 

 

Dr. Kapil Adhikari, Dean, Faculty of Science and Technology, Gandaki University 

 
Organizing Committee
Chairperson:
Dr. Raj Kumar Thapa, Director, Research Center, Invention and Innovation Center (RC-II), Gandaki University 
Co-Chairperson: 
Mr. Ravi Bhandari, Head, IRDA, Gandaki University 
 Members:  
Dr. Kisan Koirala, Controller of the Examinations, Gandaki University 
Dr. Madhu Sudhan Subedi, Coordinator, BSM, Gandaki University 
Dr. Sushil Bhandari, Assistant Professor, B. Pharm, Gandaki University 
Scientific Committee
Scientific Committee (GUIC-2024)
National
Dr. Raj Kumar Thapa, Executive Director, Research Center, Invention and Innovation Center (RC-II), Gandaki University, Nepal
Dr. Kisan Koirala, Controller of the Examinations, Gandaki University, Nepal
Mr. Ravi Bhandari, Head, International Relations and Development Affairs (IRDA), Gandaki University, Nepal
Dr. Madhu Sudhan Subedi, Coordinator, Sports Management Program, Gandaki University, Nepal
Dr. Sushil Bhandari, Assistant Professor, Gandaki University, Nepal
Dr. Namraj Dhami, Executive Director, Pokhara University Research Center, Nepal
Prof. Dr. Vikash KC, Prithvi Narayan Campus, Tribhuvan University, Nepal
Dr. Bimala Sharma, Associate Professor, Gandaki Medical College, Tribhuvan University, Nepal
Prof. Dr. Bhupendra Bimal Chhetri, Department of Electrical and Electronics Engineering, Kathmandu University, Nepal
Dr. Narayan Adhikari, Central Department of Physics, Tribhuvan University, Kathmandu, Nepal
International
Dr. Hari Devkota, Assistant Professor, Kumamoto University, Japan (Adjunct Professor, Gandaki University, Nepal)
Dr. Subrata Sinha, Assistant Professor, Dibrugarh University, India (Adjunct Professor, Gandaki University, Nepal)