International Relations and Development Affairs (IRDA)supports and facilitates the international mission of Gandaki University. It provides services for faculty and students and offers international educational and cultural experiences for the University and community, and is a major contributor to the globalization process of the University and growing its reputation as a major international educational and research center. IRDA focuses on
IRDA is always working on creative programs to increase opportunities for students and faculties to get involved and facilitate growing relationships between international students and faculties outside Nepal through social, cultural and educational activities.
IRDA regularly hosts and collaborate with various international institution to a variety of workshops, conferences and events to build academic excellence and supporting students' academic and professional growth.
International Researchers/Scholars
We provide support for international researchers and scholars, as well as individual advising for students who wish to enrich their education through international study and intellectual and cultural exchange. Gandaki Universities can provide volunteer faculty positions to the interested International Researchers and Scholars will to provide service in Nepal. IRDA can facilitate these Researchers and Scholars to get Study VISA from Department of Immigrant. IRDA has also been facilitating the visits of International Professors in Gandaki University.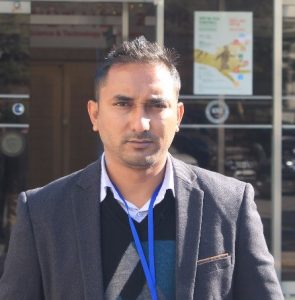 Ravi Bhandari
Head International Relations and Development Affairs Email:
[email protected]
Contact: 977-9856038362
International Partnerships
With the goal of internationalizing Gandaki University focusing on activities in research, education, and engagement, the IRDA has been developing international collaborations, from general Memoranda of Understanding to more specific joint efforts, which are formalized as Memoranda of Agreement or Student Exchange Agreements. IRDA facilitates the development of formal international agreements, which deliver specific, mutually agreed upon outcomes, and serve to enhance and further the university's strategic international goals.
Joint Degree
Joint Research
Joint Academic Program
Collaborative Projects
Collaborations with national and international institutions
Gandaki University within its short period of establishment has been able to develop partnership and collaboration with various national and international institutions. Memorandum of Understanding (MoU) have been signed with these institutions to establish bilateral relations leading to breakthrough in research and knowledge, the free exchange of ideas, and enduring quality long-term partnerships that are mutually beneficial.
MoU with International Universities and Institutions
California State University, USA
University of Central Missouri, USA
Medi-Caps University, India
Inter-Governmental International Organization
Colombo Plan Staff College for Human Resource Development in Asia and the Pacific Region, Bhutan
Inha University, Republic of Korea
Ondokuz Mayis University, Turkey
Global Education Board, USA
Central Luzon State University, Philippines
Bielsko-Biala School of Finance and Law, Poland
Akamai University, USA
Hyupsung University, Republic of Korea
MoU with National Institutions
Policy and Planning Commission, Gandaki Province
Gandaki Province Academy of Science and Technology
National Innovation Center
Nexus Institute of Research and Innovation
National Academy of Science and Technology
International Research Project
Governing Green Transitions (GOGREEN): The global research project initiated by Roskilde University